Pius X High School
Class Of 1961
Jean Fischetti Barrett passed away last week after a lengthy battle with cancer. There was no obituary and no photo.
_____________________________________________________________________________
Gerald "Jerry" Lee Cluck
APRIL 12, 1943 – MAY 17, 2023
Jerry passed away peacefully from this life on the afternoon of May 17, 2023, after a gradual decline in health. He was surrounded by family and care givers during the last days of his life.
Jerry was born in Montebello, California and planted his roots in Southern California where he lived for the remainder of his life. Jerry was raised in the city of Cudahy, CA, He attended Pius X High School in Downey.
Jerry was a lover of sports, and he was the baseball coach for many kids in the Temple City area for many years. He loved all things Notre Dame, especially the college football team. He was a diehard Dodger fan, having been a true fan since he was 8 years old. He loved the Los Angeles Rams NFL team and was also a Los Angeles Kings Fan (NHL). He enjoyed the game of golf as favorite pastime.
He belonged to the Tarter Car Club and the Elks Organization for many years.
Throughout his life he was a husband, father, grandfather, uncle, brother and a
dear friend to many. Simply put, Jerry loved people.
Jerry is survived by his children, Jack Anthony (Kathleen) and Shari Marie Taylor, daughter-in-law, Kathi Cluck and his lifetime love, Maggie Cluck. Jerry has 8 grandchildren: Markus, Christel, Catherina, Ashley, Victoria, Dylan, Emily, and Jack. Jerry has 7 great-grandchildren: Logan, Noah, Hunter, Chloe, Oakley, Adam and Dylan Jr. and his sister, Judy (Cluck) Gilkey.
Jerry was preceded in passing by his son, Michael Thomas Cluck, his father Jack Cluck, his mother Helen Cluck, his brother Jim Cluck and his sister Margie Herrmann.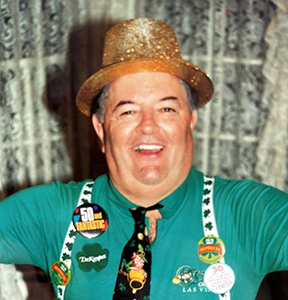 _______________________________________
NOTE: JERRY WAS THE 76th CLASSMATE TO
PASS AWAY FROM OUR CLASS OF 244
_______________________________________