Pius X High School
Class Of 1961
Florence Duggan-Bayne is working to update the class roster for next years reunion. Unfortunately she is finding some classmates that have passed. In addition to Eugene and Virginia she discovered that Thomas Armendariz, Jane Dunham and Judith George Modtland have also passed.
JUDITH ANN MODTLAND
1942 - 2019
JUDITH ANN MODTLAND
On Saturday, February 2, 2019, Judith Ann Modtland, loving wife, mother, daughter and sister, passed away at the age of 76.
Judy will be forever remembered by her four children, Scot, Kevin, Lanetta and Steven, and by Donald Modtland, her loving husband of 43 years.
Judy was born on July 19, 1942, to her mother Ethel Arthur, in Pittsburgh, PA. In her adult life, she was characterized by her love for family and friends. When times were tough, she persevered and made sacrifices so that her children could have a better life. She went out of her way to do things for others and spoiled her loved ones on holidays and birthdays. She especially enjoyed sending greeting cards to her friends and family throughout the year. She loved to make and share baked goods, read romance novels, and do puzzles. During her retirement years, Judy and Don enjoyed traveling together.
She is survived by her four children, husband, brothers (James and John Arthur), sister (Phyllis DelaMontaigne), and five grandchildren, as well as a number of other relatives.
A funeral service will be held on Monday, February 18th at the Miller-Jones Mortuary chapel, 165 W. 7th Street, San Jacinto, CA 92583 at 11:30 am.
Sorry to say we just learned of Eugene's passing.


Eugene Brian Kardell
Simi Valley, CA
6/14/1943-05/18/2015
Eugene Brian Kardell, a 38 year resident of Simi Valley and a fixture in his neighborhood, passed away suddenly Monday afternoon. Gene to his friends and family, was born in South Gate, California on June 14, 1943, to Milton and Mildred Kardell. Other than his tour of duty with the Marine Corps in Vietnam, he never lived outside of California.
A graduate of Cal Poly- San Luis Obispo, Gene spent 30 years as an HVAC engineer with Carrier Corporation. He served as a projects manager, regional manager, and a branch manager for Carrier, spending many of those years as the Service Engineer for the Western United States. He continued to consult on various commercial refrigeration projects throughout California and Nevada after his retirement.
In his retirement, Gene could be seen every morning walking his two dogs and talking to his neighbors, all while wearing his distinctive straw hat, and spending most of his free time with his grandchildren or at his son's hot rod shop. He was an avid car enthusiast who passed that love of everything automotive (as long as it was a Chevy) to his two youngest sons, including the three classic Chevys he left behind. The furniture he made and the stained glass that he etched are prime examples of his craftsmanship. His calm demeanor, along with his insistence on working hard and doing your best, lives on in all that loved him.
Gene is survived by his four children: Rob Kardell, Brian Kardell, Stacy Velazco and Eric Kardell; his six grandchildren: Steven Velazco, Brenden Garcia, Ashley Velazco, Jerico Kardell, Rachel Velazco, and Chloe Kardell; and his three beagles, Violet, Spot, and T-Bone..
Published in Ventura County Star on May 23, 2015
_________________________________________________
Sorry to say we also just heard of Virginia Garcia's passing.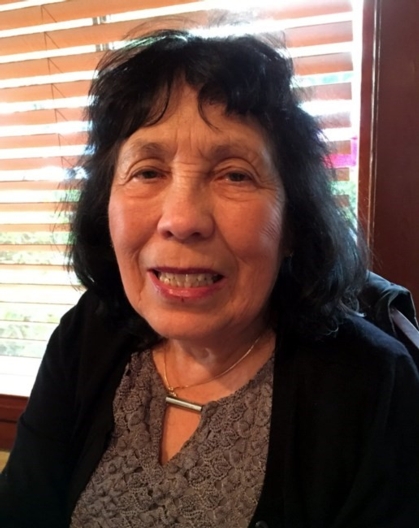 Virginia Therese Garcia
APRIL 18, 1943 – FEBRUARY 25, 2017
Virginia Therese Garcia, 73, passed away on February 25, 2017 at her family home in Chino, California. Visitation/Rosary will be held at Valley View Chapel Montecito Mortuary, 3520 E. Washington Street, Colton CA on March 7, 2017 at 4:00-8:00 pm. Dessert reception at 4:00 pm.
Funeral service will be held at All Souls Mausoleum, 3510 E. Washington Street, Colton CA on March 8, 2017 at 1:00-2:30 pm. Lunch reception to follow mass and burial service- 2:30-4:30pm.
Virginia was born in Los Angeles to Florence Garcia and Heriberto (Eddy) Fierro Karakey on April 18, 1943. She attended Pius Catholic High School in Downey and graduated in 1961. She went on to earn a degree in Nursing from Compton College graduating with a certificate in Registered Nursing in 1966. She practiced nursing as a surgical nurse for many years and then continued working as a visiting nurse.
Virginia was preceded in death by her parents, Florence and Heriberto.
Virginia is survived by her husband of 53 years, Juan (Johnny) Garcia; her sister Olivia Karakey; daughters Rose Waldron and Patricia (Pattie) Garcia-Plotkin; son John Jude Garcia; sons-in-law Michael (Mike) Waldron, and Stephen (Steve) Plotkin; daughter-in-law Zoe Garcia; four grandchildren Sydney Tuck, Ryan Waldron, Zachary Waldron, Cameron Tuck; and one great-grandson John (Johnny) Michael Waldron.
Virginia was a parishioner of St. Margaret Mary Catholic Church for over 40 years. Affectionately known as "Virgie" and "Virg". Devoted wife, loving mother, grandmother and great-grandmother, Virgie enjoyed spending time with her family and friends, shopping, attending the theater, sewing and traveling. Her favorite places to travel were Hawaii, Coronado Island in San Diego, Monterey Bay, Napa Valley and San Francisco. In 2005 Virgie and Johnny went on a trip of a lifetime, to Europe, where she went to see the Vatican, Paris, and visited her son in Milan Italy.