Pius X High School
Class Of 1961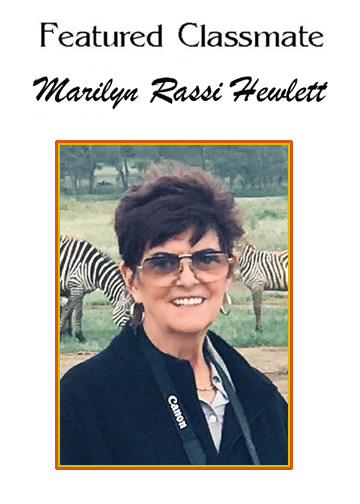 EAST AFRICAN SAFARI
In August 2019 my husband TJ and I traveled to East Africa on Safari into Kenya and Tanzania. After our 14 hour flight from NY we arrived in Nairobi, the Capitol of Kenya, and were shocked to see the poverty and slum conditions in this 3rd World area. Our tour group consisted of 18 Americans (3 jeeps of 6 people each), allowing ample space inside with wide viewing opportunities.
While in Africa we ventured into Kenya's most captivating wildlife sanctuaries, set amid
the beauty of the surrounding wilderness. We crossed the equator where water flows counter-clockwise, approaching Mt. Kenya, a dormant volcano topped with snow. We visited Samburu National Reserve, along the Ewaso Ngiro River, home to some of Africa's rarest game species. The river's permanent waters abound with crocodiles and hippos. The waters attract a multitude of wildlife including Grevy's Zebra, the Gerenuk Antelope with it's long neck, ostrich, hyena, leopard, cheetah and lion. Lake Nakuru and Lake Naivasha in the magnificent Rift Valley attract various species of gorgeous birds, including those fascinating pink flamingos. One of Kenya's finest Rhino Sanctuaries is located in Lake Naivasha. We continued into the fabled Masai Mara National Reserve, the northern extension of Tanzania's famous Serengeti Plains. That area is home to the annual wildebeest migration and to a thriving population of predators including lion, cheetah, hippo, crocodile and the imposing Cape Buffalo. We took a thrilling hot air balloon safari above Masai Mara's plains, watching various herds of animals scampering below. We learned about the fascinating, proud culture and customs of the indigenous Masai Mara tribes and admired their beautiful, colorful garments. They believe the color red discourages lions.
Leaving Kenya, we flew to Kilimanjaro Airport in Tanzania. Over the next few days we visited Lake Manyara and Ngorongoro crater, which has the greatest concentration of wildlife in Africa, including the famous tree climbing lions throughout the Great Rift Valley. We also visited Tarangire National Park for more wildlife viewing.
There are serious endangered species in East Africa such as Grevy's Zebra, Black Rhino, African Wild Dog, Thompson's Gazelle and chimpanzee. Over the past century the African Elephant population has dropped dramatically from several million to less than 500,000 today. Habitat destruction is part of the cause but hunting/poaching for ivory is the biggest cause of population loss. Those beautiful African Elephants are now listed as "Vulnerable" by Conservationists.
While in Africa TJ and I gained tremendous awe, love and respect for God's magnificent creatures everywhere. They are incredible to watch as they go about their daily activities with pure, clear and open interaction with one another. We just need to remember that they do need to eat, just like we do. That is sometimes hard to watch, for sure. We highly recommend an African Safari. The "BIG 5" are awaiting your visit (buffalo, elephant, leopard, lion, rhino). And take note: We did not encounter one mosquito!!
Hope you enjoy the short slideshow presentation. (Turn on the volume and go to full screen)
___________________________________________________